Fundraising Film - The Shawshank Redemption - Geleb NSW
- Has Ended
8 Aug, 2014
-
8 Aug, 2014
Fri 7:00pm - Fri 10:00pm
DO Details
Come along and join us for this MUST SEE movie. The Shawshank Redemption is rated at No.1 in the IMDB's top 250 movies of all time.
Proceeds from this special screening go to the following charities:
National Breast Cancer Foundation

Prostate Cancer Foundation of Australia

Neuroscience Research Australia
Two imprisoned men bond over a number of years, finding solace and eventual redemption through acts of common decency.
Andy Dufresne is a young and successful banker whose life changes drastically when he is convicted and sentenced to life imprisonment for the murder of his wife and her lover. Set in the 1940's, the film shows how Andy, with the help of his friend Red, the prison entrepreneur, turns out to be a most unconventional prisoner.
Arrive at 7:00 PM for dinner and try the Roxbury's signature Lambshanks. Lambshanks with Shawshank, it's a winner! The Roxbury has a great selection of pub food from the bistro.
Movie starts at 8:00 PM upstairs at the Roxbury.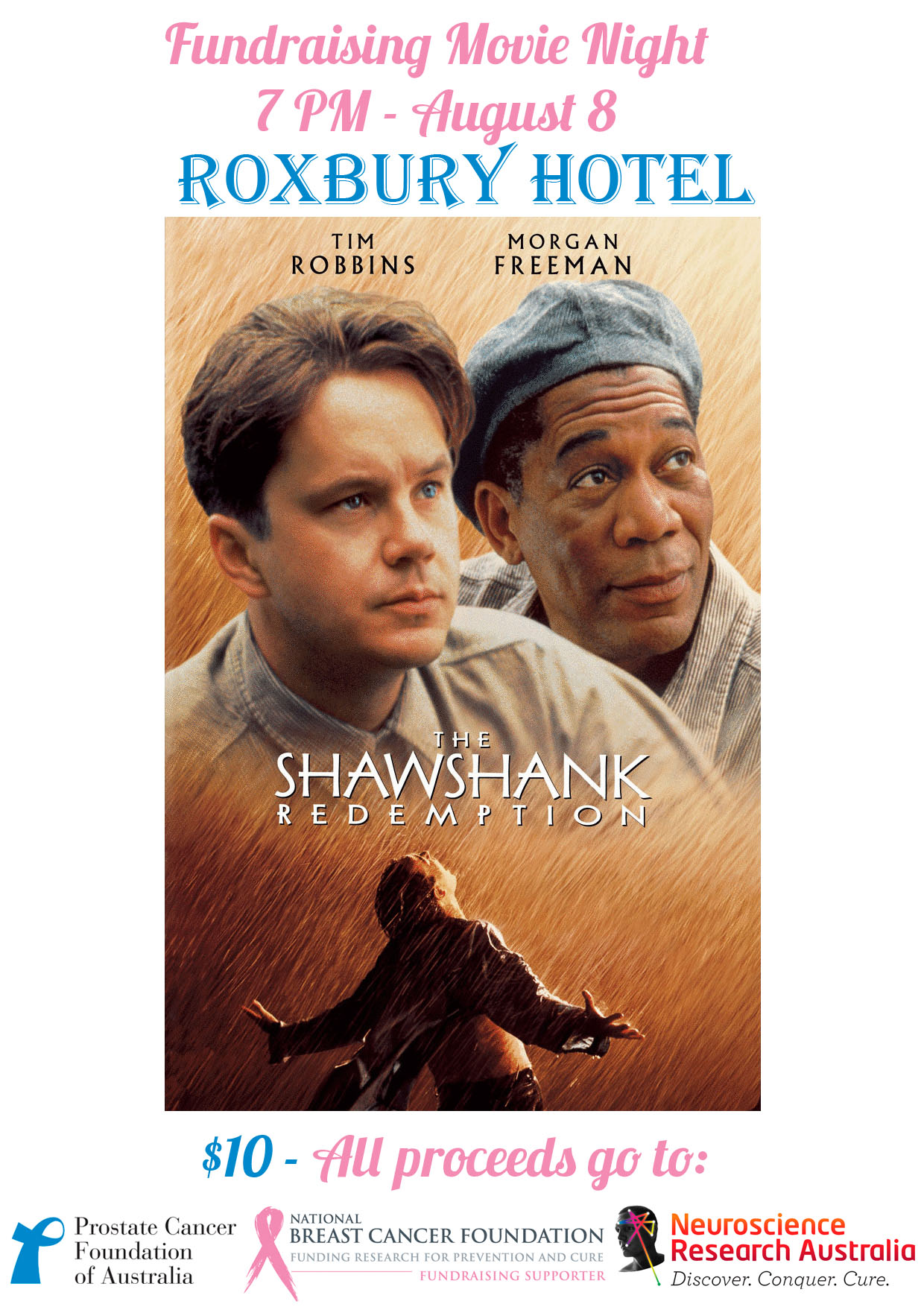 This event is presented by the Sydney 35+ Social Group. There'll be a bunch of fun and friendly over 35 Sydney-siders attending. It's bound to be a great social event and a feel good night raising funds for three special charities.
DO Organiser
Sydney 35+ Social Group
#### ####
DO Supports
Proceeds from this special screening go to the following charities: •National Breast Cancer Foundation •Prostate Cancer Foundation of Australia •Neuroscience Research Australia