Where Pigs Fly Farm Sanctuary - Picnic Day - Hunter Valley
- Has Ended
1 Mar, 2015
-
1 Mar, 2015
Sun 11:00am - Sun 3:00pm
DO Details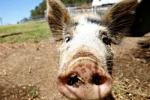 We are just six months into setting up a sanctuary for farm animals in need. To celebrate, please join us for a vegan picnic day at the sanctuary, meet our small family of rescue residents and enjoy a day of meeting fellow WPF supporters.
BYO - vegan picnic and drinks

Bring closed shoes, picnic rug/chairs

Cool WPF t-shirts and tote bags available to buy
To keep our residents safe, please keep your furry family members at home.
Thanks so much for your support and look forward to seeing you here!
The WPF team
DO Organiser
Where Pigs Fly Farm Sanctuary
0421 666 890
DO Supports
Where Pigs Fly Farm Sanctuary provides care and shelter to farm animals in need. Set on 100 acres in the lower Hunter Valley, our residents are free to be themselves, free from harm and suffering. At the heart of our mission is the hands-on work of rescuing, rehabilitating and caring for farm animals who literally have nowhere else to go. Through education and advocacy, we also work to change the way society views and treats farm animals. Where Pigs Fly Farm Sanctuary is a not-for-profit registered charity.