Heartbeats Charity Walk in the Park - Surrey Hills VIC
- Has Ended
18 Apr, 2015
-
18 Apr, 2015
Sat 10:00am - Sat 2:00pm
DO Details
A Charity Walk to raise money to help raise funds for pets with cancer!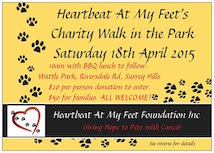 A leisurely walk in the park followed by a BBQ lunch to raise funds to assist with cancer treatment for animals & honour pets lost to cancer.
WHEN: Saturday 18th April 2015
9am Registration. 10am Start
$20 entry fee per single. $50 per family (up to four people).
BBQ lunch & drinks also available to purchase.
DO Organiser
Mandi Herauville - Heartbeat at My Feet Foundation
0409 932 447
DO Supports
Heartbeat At My Feet Foundation Inc.