Mt Buller Mountain High Fun Run 2015
- Has Ended
4 Apr, 2015
-
4 Apr, 2015
Sat 7:30am - Sat 10:30am
DO Details

Mt Buller's Mountain High Fun Run is a great event for everybody! Head out with family and friends and enjoy a leisurely lap around the Village, or push yourself to the limit on one of our more difficult courses. Proceeds from the Mountain High Fun Run go to the Mansfield District Hospital.
CLICK HERE to be directed to the Run Buller website for more information.
WHEN / WHERE
SATURDAY 04 April 2015
All runs start in the Mt Buller Village Square
COURSES
We have created three courses that range from leisurely to downright challenging.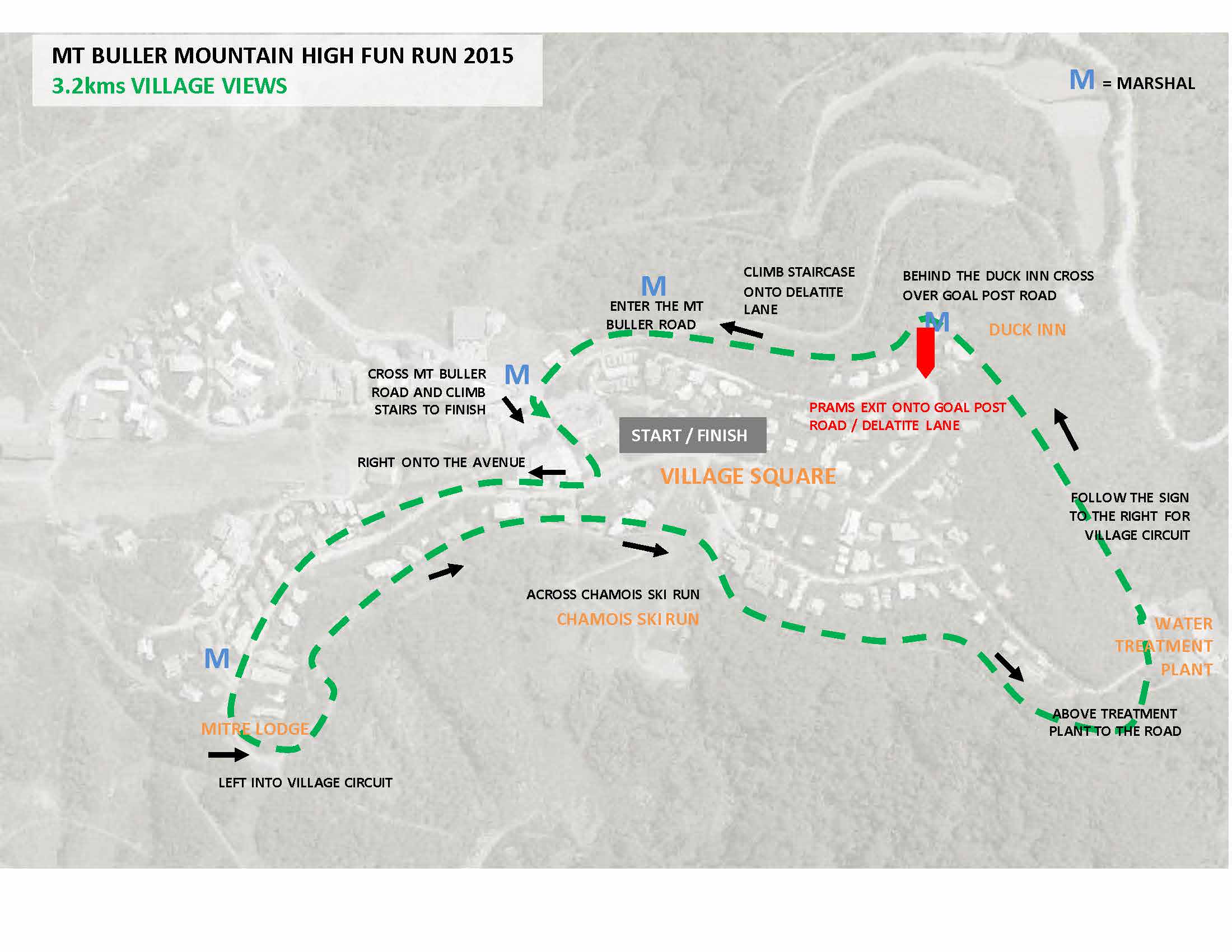 3.2KM VILLAGE VIEWS
This is a combination of sealed and unsealed road that is flat and at a beginner runner's level. Suitable for parents with prams and those wanting to get out into the fresh alpine air.
Prizes: First boy, first girl (14 and under)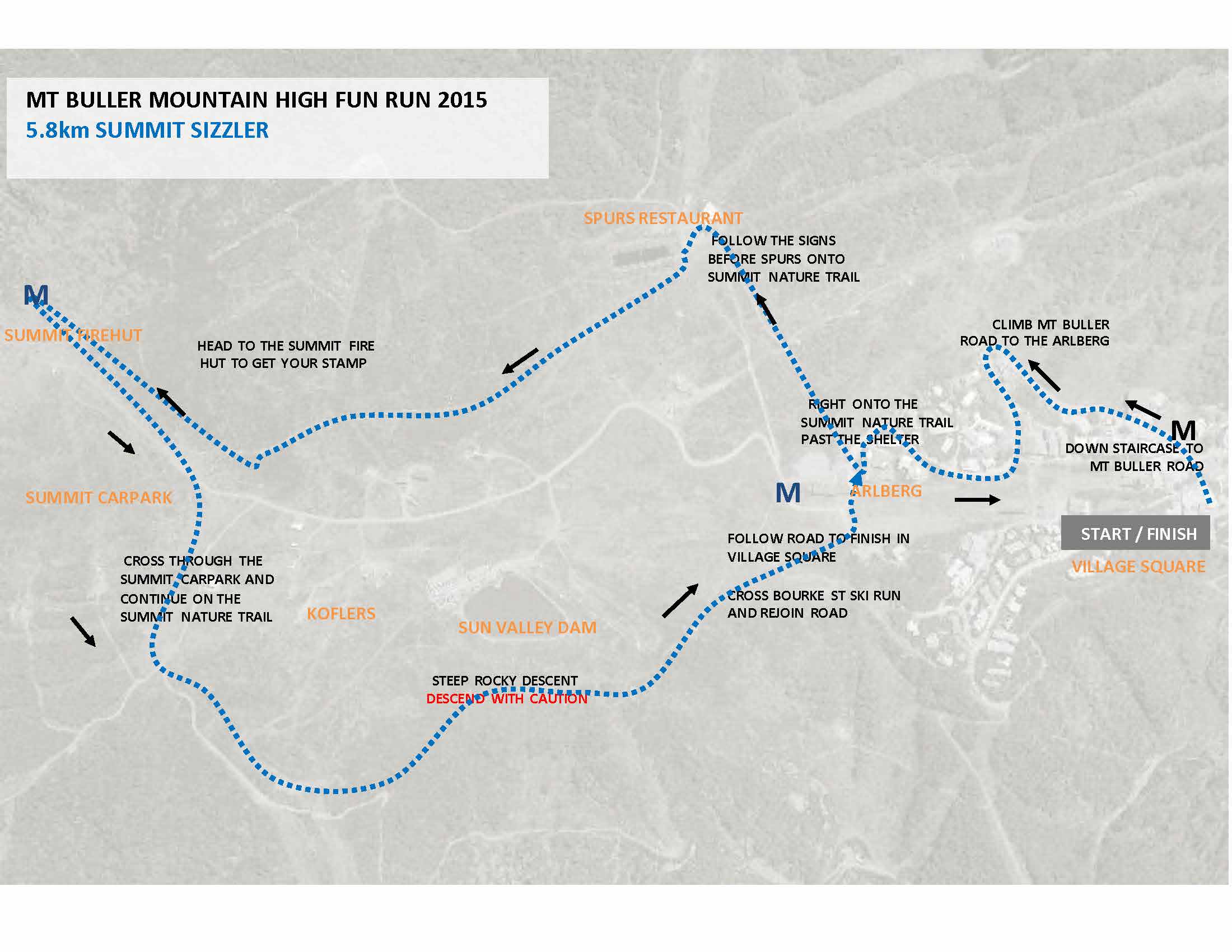 5.7KM SUMMIT SIZZLER
Here is an undulating run on a gravel track that tours through the natural alpine environment, around the base of the Mt Buller summit and back into the village. A good leg stretcher and a more challenging on off-road and rocky terrain. With the thigh burning loop to the Summit Fire Hut on the Summit Sizzler you are set to really test yourself!
Prizes: First male, first female.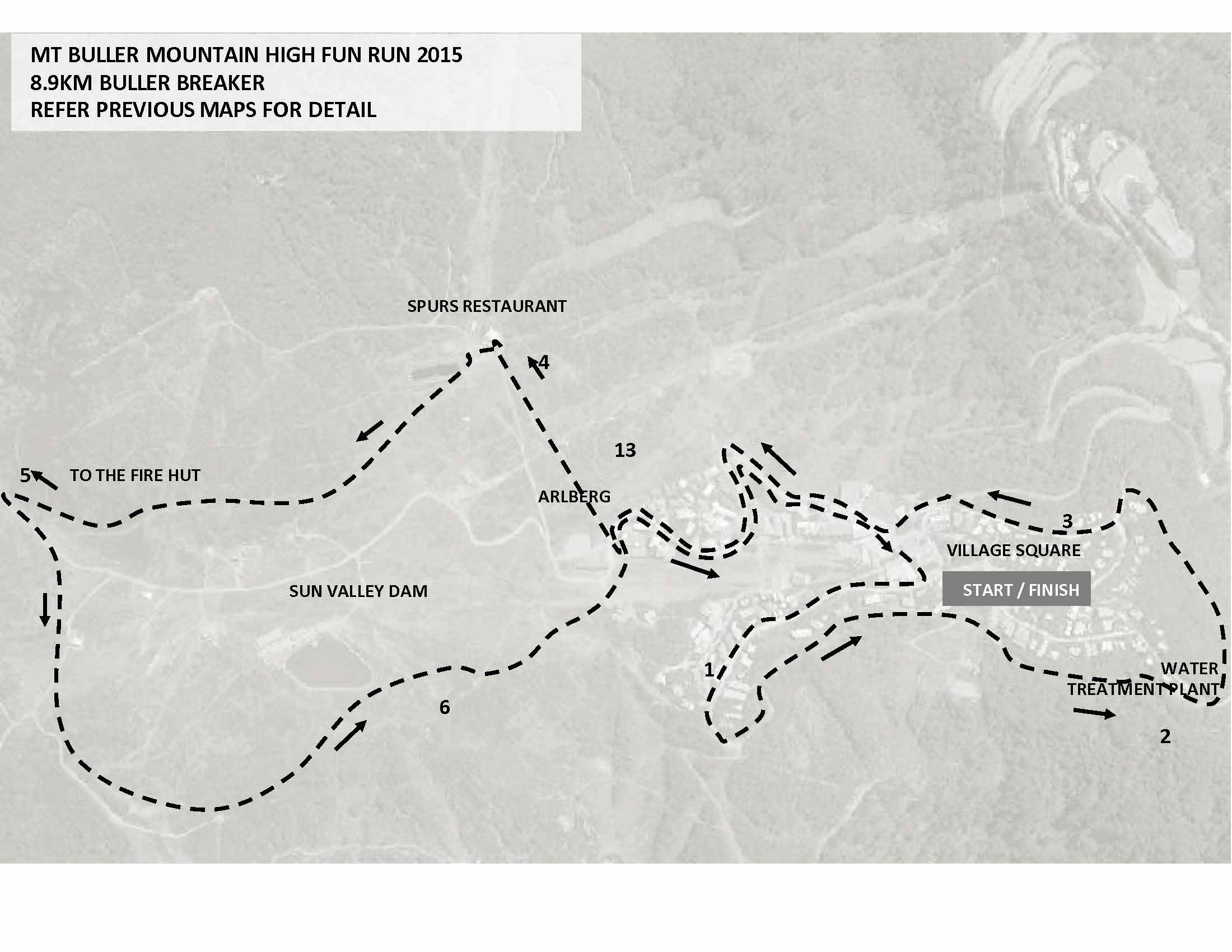 8.9KM BULLER BREAKER
Combining both circuits, those runners out to challenge themselves will head off on the 3.2km Village Views, join up with the 5.7km Summit Sizzler and tour the awesome mixture of trails that Mt Buller has to offer. The greatest challenge comes when you hit the Summit Fire Hut loop. A true test of your attitude to altitude!
Prizes: First male, first female.
SCHEDULE
ON DAY registration from 7.30am, ALPINE CENTRAL (ADDITIONAL FEES APPLY FOR ON DAY ENTRY)
All runners ready to start at 9.30am
– 8.9km Buller Breaker starts at 9.30am
– 5.7km Summit Sizzler starts at 9.35am
– 3.2km Village Views starts at 9.40am
Presentation ceremony at 11.30am in the Village

ONLINE ENTRY FEE

3.2km Village Views, $10 adults, kids 14 and under free (kids MUST still be entered).
5.7km Summit Sizzler, $10 all entrants
8.9km Buller Breaker, $10 all entrants
Online fee $1.59, free for kids in Village Views.
PAYMENT AND ENTRY
Once you have registered and paid online you will be issued an event ticket.
YOU MUST PRINT AND BRING YOUR TICKET WITH YOU.

CAN I ENTER ON THE DAY
Yes, you can make your way to Alpine Central in the Square at 7.30am where registration forms will be available. Late entry fee is AN ADDITIONAL $10 per person including children.

CAN SOMEONE WHO HASN'T ENTERED JUST JOIN THE RUN WITH ME?
No, each person taking part must be registered. This enables us to ensure all runners return home safely.

FINISHING
You must have a Fire Hut stamp if you wish to win a prize (excluded Village Views).

WILL THE EVENT BE TIMED
No. The main focus is participation. We really just want you to have fun and enjoy the views. We will publish a finish order.

ARE PRAMS ALLOWED?
Prams are encouraged! Please be aware that only the 3km course is appropriate for prams.
Prams can return on Stirling Road to complete the circuit.
MORE INFORMATION
For more information about Mt Buller Resort including accommodation head to the Mt Buller website
DISCLAIMER - While participating in the Mountain High Fun Run both my property and my person shall be at my own risk and I will not hold the Australian Alpine Institute or the Mt Buller and Mt Stirling Alpine Resort Management Board liable for any illness, loss, injury, or loss of property sustained during or as a result of participating in the Mountain High Fun Run.
DO Organiser
Run Buller
03 5777 6077
DO Supports
Mansfield District Hospital