Oxfam-Monash Innovators: The Big Pitch - Melbourne
- Has Ended
11 Dec, 2014
-
11 Dec, 2014
Thu 5:30pm - Thu 8:30pm
DO Details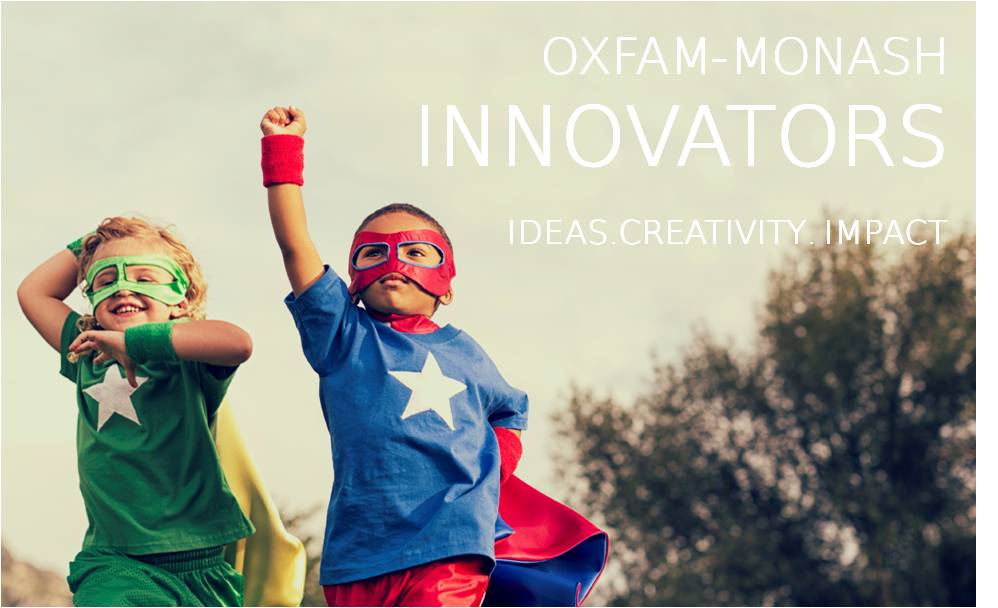 We invite you to join us for an exciting evening of big ideas and creativity at the Oxfam-Monash Innovators 2014 presentation night.

Oxfam-Monash Innovators is a unique initiative of the Oxfam-Monash Partnership, designed to mobilise the ideas and creativity of young people to generate positive social change.
Students in the 2014 Innovators program will be developing and pitching a range of exciting ideas to build the success of Oxfam Shops and Oxfam Unwrapped. The best of these ideas, as selected by a panel of experts, will be taken on for further development and implementation at Oxfam in 2015, supported by funding from the Oxfam-Monash Partnership.
On the 12th of December, this year's Innovators cohort will be pitching their concepts for the chance to see their original ideas brought to life. We invite you to join us for this inspiring evening, to see some of the incredible ideas the next generation has to offer, and to discuss how new approaches to youth engagement can reinvigorate the work of the international development sector.
Food and drinks will be provided, and spaces are limited - so RSVP quickly!
DO Organiser
Alexandra Kennedy
#### ####
DO Supports
The Oxfam-Monash Partnership is built on a simple idea - that working in partnership can achieve more than working on one's own. Development organisations and academic institutions both play key roles in global development and poverty reduction. Yet their impact can be much greater when these efforts are combined. Recognising this, the Oxfam-Monash Partnership was established to forge new solutions to development challenges, and to enhance the contributions of Oxfam and Monash to positive global change.