Recycle Love - Melbourne
- Has Ended
30 Oct, 2014
-
30 Oct, 2014
Thu 7:00pm - Thu 9:30pm
DO Details
Australian Red Cross - Bridge Rd, Presents 'Recycle Love' - A Recycled Fashion Show Event

Date of Event: Thursday, 30th October 2014 - Doors open at 7pm

Venue: Australian Red Cross - 191 Bridge Rd, Richmond VIC 3121
Australian Red Cross - Bridge Rd, are putting on a fashion show event called 'RECYCLE LOVE'.

The purpose of this event is to raise funds for Australian Red Cross and to raise awareness of our local shop on Bridge Rd in Richmond.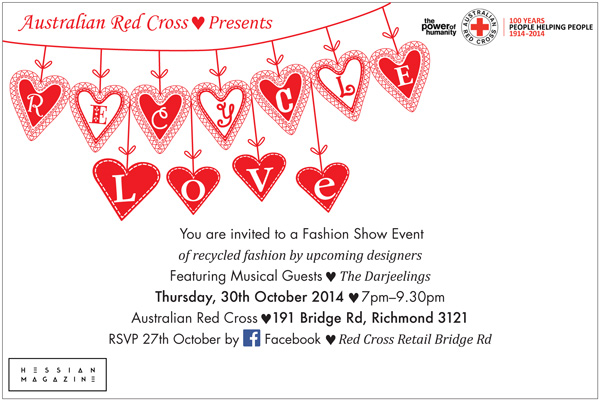 This is a free charity event, a fashion show featuring local and upcoming designers, who have generously volunteered their time and skills to help us create an event about up-cycling recycled fashion.

We are also promoting awareness of recycling, up-cycling, repairing and reducing landfill to help our environment.

The designs will be featured on a runway and will be on sale at the Australian Red Cross - Bridge Rd shop on the night of the event. All proceeds will go to Australian Red Cross.

We will also feature musical guests darlings, The Darjeelings, the upcoming Melbourne band, who are also kindly volunteering their time and will play on the night of the event.

Please visit and like us on our Facebook - Red Cross Retail Bridge Rd - to keep up to date with the latest on our fashion show.

Check out our Instagram too - http://instagram.com/redcrossretailbridgerd

Please spread the word to your friends! We want lots of people to come and support the event, by raising funds to help a worthy cause.

We look forward to seeing you there!
DO Organiser
Australian Red Cross - Bridge Road
03 9421 6481