Fossil Free UQ Divestment Forum - Brisbane
- Has Ended
9 Oct, 2014
-
9 Oct, 2014
Thu 11:45am - Thu 1:00pm
Parnell Bld (7), Room 234 St Lucia
DO Details
Fighting Climate Change by Divesting from Fossil Fuel! If it is wrong to wreck the climate, then it is wrong to profit from that wreckage.

Join us for what will be a forum for change, examining why UQ MUST be a part of the rapidly growing international movement of divesting of Fossil Fuel Investments!
"Divestment is the opposite of an investment – it simply means getting rid of stocks, bonds, or investment funds that are unethical or morally ambiguous. Fossil fuel investments are a risk for both investors and the planet."
This is why we are calling on UQ to divest itself of its investments from companies dealing in Fossil Fuels!

The event will see quick and punchy presentations from :
our own Fossil Free

UQ team

Karen McLeod - Australian Ethical Investments, Financial risk of investing in the fossil fuel industry

Kristen Lyons - UQ Associate Professor in Sociology, Fossil Fuel Divestment, Research integrity and Academic freedoms.
Followed by a Q&A sessions after each presentation and at the end of the forum.

MC will be Jyoti Jude Menon, Convenor of Oxfam UQ

FREE Light refreshments and Fair Trade Coffee and Tea will be served just prior to the event (11.45am -12 pm)

This is truly an amazing opportunity to find out how we at UQ can actually combat Climate Change in a meaningful and significant way, and how YOU can be a part of that movement! for very real change!

SAVE THIS DATE AND JOIN US: BE PART OF THE DISCUSSION FOR CHANGE! Time for #ActionNotWords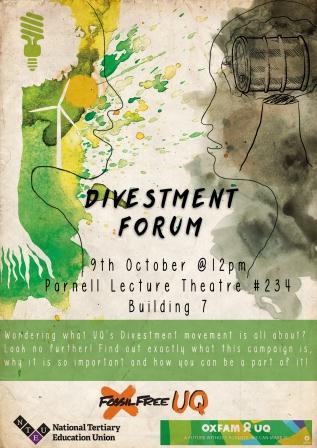 DO Organiser
Oxfam UQ
#### ####
DO Supports
Oxfam UQ is an award winning Social Justice Group and one of the oldest and largest groups from the University of Queensland. Oxfam UQ is directly affiliated with and part of Oxfam Australia.