Launch Of Bendigo Foodshare Everyday Central VIC Fundraising Campaign
- Has Ended
8 Oct, 2014
-
8 Oct, 2014
Wed 12:00pm - Wed 1:00pm
DO Details
Did you know 1 in 9 people in central Victoria do not have enough food to last them a week?
These people are our neighbors, friends, family. Bendigo Foodshare is changing this and you can help.
We are inviting you join us and raise awareness of the everyday need in Central Victoria at the Everyday Central Vic Fundraiser Launch.
For every $1 donated we can provide food for 16 healthy meals. We are seeking your support to ensure we continue to deliver this very important Everyday service to the children and families who are in need.
You can provide us support in so many ways:
As little as $5 a week can provide food for 80 community meals.
As little as $40 for 30 meals in schools for children
As little as $25 for providion of emergy relief food for a family of 4 for an month

We are seeking donations to assist us keeping our warehouse in operation.
$5500 per year to operate our Freeza
$3500 per year to operate our Fridge
$500 per year for our lighting costs

$500 per month to run our van
$1600 per month to pay for our rental of the warehouse
$ x per month for our internet and phone costs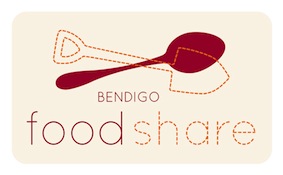 DO Organiser
Bendigo Food Share
03 5444 3409
DO Supports
Benidgo Foodshare is a voluntary group that collects and redistributes surplus food, food that would otherwise go to waste, food that may be nearing its use-by or its best-by date, is slow to retail or simply out of popular favour – good food that would normally be dumped.