Self Made: An Evening Of Social Enterprise & Entrepreneurship
- Has Ended
14 Aug, 2014
-
14 Aug, 2014
Thu 6:30pm - Thu 8:00pm
DO Details
SELF MADE is a unique celebration of local Social Enterprise initiatives and Social Entrepreneurship, to be hosted by Amnesty International Victoria's Alumni Network.
Welcoming an exciting panel of experienced and talented speakers, join us in celebrating the successes of Chantelle Baxter (CEO of One Girl), Roslyn Campbell (Founder/Owner of Tsuno Pads) and special guest speaker to be announced, as they share their story, engage in discussion and inspire anyone and everyone to seize opportunities and create real change.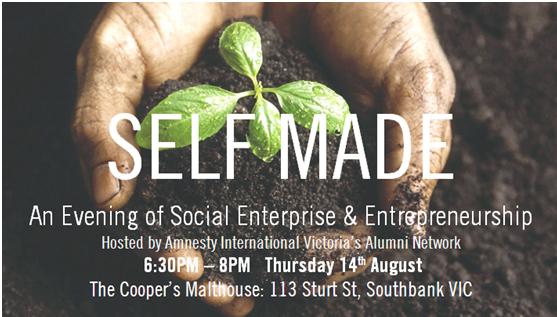 Sharing their backgrounds and experiences, hear from each speaker as they delve into what social enterprise truly means to them and the journey they embarked on to discover why.
Ask questions and reflect as our speakers engage in a panel discussion about social enterprise and what challenges/successes they've encountered. Network with the people behind some of Melbourne's most established and socially conscious organisations.
We admire the work that goes into establishing, cultivating and maintaining social initiatives; and we want you to join us in an evening of learning, awareness and Inspiration. We'll even be giving out plenty of socially conscious gifts to celebrate more of Melbourne's social enterprise collective in the lead up to the event, so make sure you keep an eye on our facebook event!
Want to win a deliciously huge gift pack, just by registering your ticket? Reserve your FREE ticket to SELF MADE, and go in the draw to win an incredible giftpack, generously donated by Loving Earth.
Check out our Facebook event for more information!
DO Organiser
Amnesty International Victoria
03 9412 0700
DO Supports
Amnesty International Victoria's Alumni Network - Amnesty International is a global movement of over 4.6 million people committed to defending those who are denied justice or freedom. Offering unique opportunities to give back to Amnesty International's community of past and present volunteers, interns and leaders; the Victorian Alumni Network seeks to connect it's members through exclusive events, industry leaders and social catch-ups to share ideas, experiences and advice.