The Infidel Book Launch And Character Auction - Canberra
- Has Ended
30 Jul, 2014
-
30 Jul, 2014
Wed 6:30pm - Wed 8:30pm
DO Details
We invite you to join Elisabetta for a book signing and an in depth conversation about how The Infidel was crafted. Elisabetta will be joined by Margaret Reid AO for this special presentation. An exciting highlight to the evening will be a Character Auction. If you would like to see your name or the name of a family member or friend as the basis of a new character in the third book of the Condottiero Trilogy the auction will be held at the Book Launch cocktail party on Wednesday 30th July 6.30pm to 8.30pm.
The event is being held to help raise funds for the services Hartley Lifecare provides to those living with disability in the ACT and surrounding region.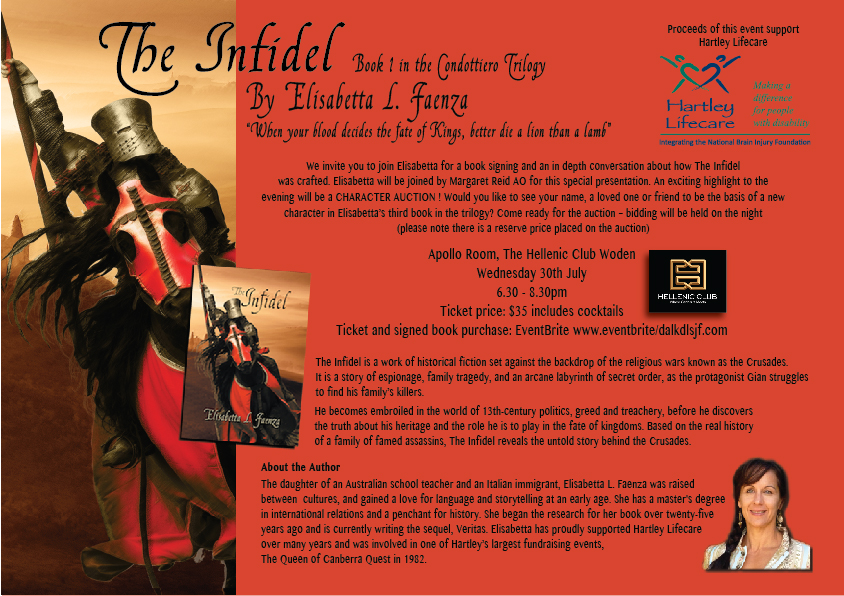 DO Organiser
Hartley Lifecare
02 6282 4411
DO Supports
Hartley Lifecare is a Canberra-based organisation that has provided accommodation support and respite care for children, adults and their families in the ACT and region with physical and complex disabilities since 1962. Many disabilities are present at birth, however they can happen unexpectedly to anybody at any stage of life. While disabilities change lives forever they don't have to stop life or end the quality of life forever. With special, intensive, ongoing support, people with physical and complex disabilities can lead fulfilling lives. That is what Hartley Lifecare is all about.