It Takes A Village … Fundraiser For Project Sama
- Has Ended
24 Jul, 2014
-
24 Jul, 2014
Thu 4:00pm - Thu 6:00pm
700 Bourke St reet, Level 2
DO Details
It takes a Village …
In September 2014, Tim Mahlberg, Host of The Village will be climbing Mt Kilimanjaro to raise awareness of Project SAMA's gender equality work, helping girls get access to education in Uganda. His Mum is coming along for the climb too! (Go Mum!)
Only 23% of children in Uganda currently have access to early learning services, with children from rural areas more likely to miss out than their urban counterparts. In fact, most 3 to 6 year-olds in rural areas miss out on preschool entirely.
In rural Uganda, parents often have limited knowledge of the importance of early learning and how integral it is to a child's development. Plan's Early Learning projects are of particular benefit to girls because they help to promote equality between girls and boys and ensure that parental attitudes and practices are supportive of young children of both sexes. Learn more at http://www.intrepidtravel.com/au/sama/projects
The event not to be missed!
Join us for a fun event raising donations for Project SAMA. We have guest speakers sharing stories about climbing Mt Kilimanjaro, PLAN's awesome projects in Africa and the importance of gender equality.
We would love for you to make a donation to this great cause. You can make them at Tim's fundraising site here: sama2014.everydayhero.com/au/tim
OR to Tim's Mum's site here: sama2014.everydayhero.com/au/sandras-kili-climb-page
For every $10 you donate, you will get an entry into an awesome raffle drawn at the event. We have 12 amazing prizes donated by super lovely members of The Village.
What happens if we hit our targets?
$3000: Tim wears a Village Chief hat for a day

$5000: Tim wears a Village Chief hat for a week

$10,000: Tim wears a Village Chief full outfit for a day

$20,000: Tim wears a Village Chief full outfit for a day and will perform live a song from the Village People selected by the person who makes the greatest monetary donation
Not sure what that looks like? Think of the Village People...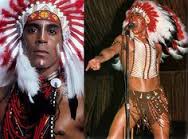 Hope you can join us to make a difference together and meet some Village people!
Find The Village at 700 Bourke on Concourse Level, via the Southern Cross/Etihad Stadium walkway.
The Village is fully accessible for people using wheelchairs. If you have any other access requirements in order to participate fully, please let us know prior by contacting us below.
DO Organiser
Intrepid Travel
03 9419 4426